Getting Started with Forex Trading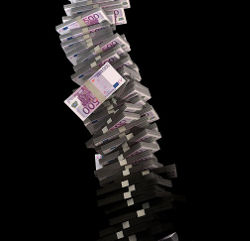 For quite some time, trading in Forex Exchange was largely available to banks, large companies, and central banks.
Essentially, it was thought that one needed large amounts of cash to trade FX, something only these players had. As such, these are the biggest players and responsible for a large share of the actual trading.
However, now it is also possible for an individual to trade foreign exchange. Individuals can trade via their banks, in which case the bank plays the role of the broker -- buying and selling in the Spot FX market, or in any other currency instrument – as per your orders.
What kind of FX trading services a bank provides depends entirely on the bank. However, a more popular way of trading foreign exchange is online, via the internet.
Forex Online Trading
Today, if you're an individual looking to trade Forex, all you need is a computer/laptop and a high speed internet connection. On the internet, you'll find brokering firms who will provide you with all you need to learn and start trading Forex.
Once you've picked a broker (use our 'How to find the right broker' guide) you will need to sign up with them. Before you open a real account and start trading for real money, you can try out their demo or practice account which lets you use 'play money' to practice trading.
Different Forex Accounts
When you're feeling ready, you can open a real account. This could be a mini account or a micro account, depending on how much opening capital you have.
When you've become more experienced you can open a normal account, referred to as standard accounts. These accounts are suitable for experienced traders. The only real difference between a standard account and a mini or micro account is the deposit sum. Some functions may not be available in mini and micro accounts, but usually they are exactly the same except for the deposit sum requierments.
Forex Software
The forex brokers provide you with a software or access to software which you can program to sell certain lots of the base currency at a certain bid price and buy at a certain ask price. When the exchange rate fluctuates to touch any of these points, the software automatically makes the trade.
Forex software is more commonly known as forex platforms. Different forex brokers has different types of forex platforms. Finding a platform that you are comfortable with is a very important ingredience for successful forex trading.
Along with a platform for trading, these brokering sites provide you with a very important service: Leverage.
Leverage
With adequate leverage it is possible to really up ones profits in Spot FX. Leverage is essentially a loan given to you by the broker. A 100:1 leverage means the broker will match each dollar of yours with 100 of his. This makes it possible for you to buy more than your actual capacity.
Other benefits of online forex broker sites:
• Immediate access, easy sign up process.
• Most provide with ample resources for you to learn the basics of trading and some also provide advance techniques for an extra fee.
• Products (software) to match needs of different types of traders.
• Leverage.
• Reports, Charts, Technical Analysis, Economic Events and other such resources and materials
• Forums and Communities
• Live Support and 24 hour customer care.
• Some even offer free trial or demo accounts.