Mobile Forex Trading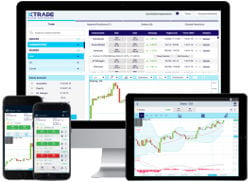 Forex trading has always been conducted using the latest technology. There has never been a brick-and-mortar exchange where traders went head-to-head.
The internet changed everything and allowed regular people access to some of the most sophisticated trading tools out there.
Now the same is true for mobile forex trading. You will find the best trading apps below along with information on how mobile forex trading is conducted.
Best Forex Trading Apps

XTrade provides one of the very best forex apps online
- visit XTrade

AvaTrade is also a top choice for forex mobile trading
- visit AvaTrade
Forex trading online, which continues to grow in terms of the percentage of daily Forex volume it represents, has been responsible for many technological innovations that have subsequently trickled down to other areas of life.
Trading Forex On Your Mobile Phone
No forex trading has gone mobile. Mobile forex trading permits cell phone and other types of mobile phones to be used for gathering quotes, opening and closing trades, viewing charts and gathering Forex news and analysis.
Obviously, the most appealing aspect of using a Forex trading app is the freedom to move about and complete multiple tasks simultaneously without being tethered to a hardwired Internet connected laptop or desktop PC.
Forex Trading Apps
Forexbrokers that offer mobile forex trading typically offer their apps for free as an inducement to customers to use their broker for their trading.
Most of the apps are available in multiple languages and work with iPhone, Android, Windows, Blackberry, Symbian and i-Mode mobile phones. And most work also on iPad and other tablets.
Another benefit is the ability to configure the apps to send alerts for any number of reasons, such as a profit target or stop loss being approached or hit, pending stop or limit orders being filled or reminders of economic releases that have the potential to cause rapid and unpredictable price fluctuations.
Someone who is accustomed to trading on a wide screen or multiple monitor setups may initially find the small displays on a cellphone or other mobile phones difficult to which to adapt, but generally find that with a little practice, this becomes far less of an issue than is trying to anticipate future Forex prices.
Mobile Connection
A critical factor to consider is the reliability of the cell phone provider's signal. Getting caught in an area with no signal during the course of a trade, regardless of whether that trade is winning and it is the desire to exit the trade with a profit, or the trade is losing and it becomes an issue of damage control, the feeling of helplessness that accompanies signal loss is one that should be avoided at all costs.
Mobile Forex
Fortunately, most Forex brokers that offer mobile Forex trading offer demo accounts that permit traders to evaluate mobile apps so that determinations regarding connection reliability and suitability for preferred trading strategies can be made.
Most Forex traders are quite comfortable with modern technology and will find that Forex trading online using either a cell phone or mobile device is a valuable addition to their arsenal of trading tools.